Reading Time: 10 minutes 🍃
You may have heard of gardening and landscaping, both of which beautify the area around your home. Gardening is usually growing plants, and it can be growing a single plant or an entire garden area full of different plants. Landscaping might include gardening, but it goes beyond the setup of the entire yard. This includes ponds, trees, and more, and it is more about designing and constructing outdoor areas.
People often ask, "What is garden landscaping?" Garden landscaping involves designing a garden, including the plants that will grow in it. It includes the structures in and around the garden that help to make it beautiful and functional. Rather than landscaping the yard and having a gardening area, the entire garden will be planned and planted in this process.
When you are redesigning your yard, creating a garden space can add beauty and function to it. It is important to understand what it is and how to do it.
How Do I Landscape My Garden?
When you decide to landscape your garden, you may feel overwhelmed with the possibilities. Creating a garden where you plant whimsically may be simpler, but it won't necessarily give you a garden that is both functional and beautiful in your yard.
The key is to set some ground rules and follow them. You need to plan how you will manage to weed, level the ground, what plants are best to use, and whether you want to add trees. Take a look at some tips to follow when you are landscaping your garden.
Understand Your Garden Space
You will start by creating a garden design. This will help you identify anything you need to repair or replace. Consider whether there is anything there that you need to remove, and look at the trees. If you need to move any to create a better walkway or to prevent the roots from interfering in your garden. You may need to level the ground in places, and you should evaluate any hedges or garden beds and how they will fit in.
In addition, look at the drainage. Consider whether the ground drains well or whether water sits in places. If you have fencing, watering, or paths, decide whether you will keep them. You should also examine the topsoil and determine whether you need to add to it or replace it.
In this planning phase, you should evaluate all of these different features and decide what will stay and what you want to add. You should also look through garden design magazines to find any additional inspiration.
Decide Whether You Will Do It Yourself or Hire a Professional
Some people get excited about garden landscaping, while others want to give input but hire a professional. Consider your budget and the scope of your project as you make this decision. You can take gardening classes or consult with a gardening store to learn more, but you may want some help for more complicated projects.
Clear Out the Site
Now it is time to get started. Go to the garden site and clear out any weeds and growth that are there. You may want to use a pick to break the soil up. If there is any rubble below, you can get rid of it at this time. If you have time before you are going to plant, you can use weed killer. This is the time to clear out the garden area so that it is ready for your new garden.
Make Sure That the Ground Is Level
It is important to make sure that the ground is level, especially if you plan to incorporate any paths or patios. You can do this yourself if the ground is already fairly level. You should use a rake and break up any compacted pieces of soil. Smooth out the surface and make sure that the soil is even across the garden area.
If the space you have chosen is sloped or very large, you may want to bring in a professional. They can bring in extra dirt to level the ground. If the hill is steep, you might consider a garden made of terraces. If you have a lot of soil to remove, this will be more expensive. You may also need retaining walls to prevent the soil from washing away over time.
Choose the Right Hard Materials for Your Garden
The next step is for you to choose the materials you want to use for your garden. You should consider how easy they are to maintain, their durability, and how they perform. You should try to connect your materials to the rest of your home and your property. Make sure that your materials are weatherproof.
You can choose the materials for your pathways, any retaining walls or fences, and any other features you plan to build as part of your garden. Try to minimize the number of materials you include so that you have uniformity in your design.
Consider Drainage
You need to make sure that water doesn't sit in pools anywhere in your garden. If you have areas in the garden where you know water sits, you might consider adding drains before you go any further. You should also check your topsoil. It should go down around six inches, including whatever you have on the top.
Plan Out Your Plants and Flowers
This step is the best part of garden landscaping. You have selected your materials and designed your garden area. Now you can choose what you plan to plant. Start with any bushes, shrubs, or trees that you plan to add to your garden.
You need to consider your soil quality and the size of your garden as you select your plants, but you might want to mix bushes and flowers or shrubs. Consider when different flowers bloom and whether you want a year-round garden. Research what plants work well together so that you can enjoy your garden all year.
Consider Creating Zones in Your Garden
Some people want to be creative and have more than one space in the garden. You might want flowers in one section and a vegetable garden in another. How you zone your garden depends on how much space you have. Some people set up a patio and an outdoor kitchen with a vegetable garden on the side. Others plant a garden using separate areas for different families of plants. You can also use planters to separate the zones in your garden.
Tie it Together
Now that you have your zones and you know what is going to be in your garden, find ways to tie it together. You can fill any raised beds that you are using to grow food. You want your garden to be an interconnected space that goes together in spite of having separate features.
Enjoy
Now that your garden is ready, you can enjoy it. You will want to take time to work in the garden and keep it tidy and clean.
How to Save Money with Garden Landscaping
When you decide to landscape your garden, the cost can range widely. This depends on what you plan to build, which plants you will plant, how much leveling you need to do, and other factors. You should start out by designing your dream garden and include everything on your wish list. Then you need to price out the materials.
Before you get started, you need to set a budget because the cost can range widely. You can save money by protecting your topsoil. Any that you have that is in good shape will be fine to use. If you order more, be there when it arrives.
You should also choose landscaping materials that are sustainable. They will be less expensive to maintain, but they will look great and weather better than other materials. The most important thing is to take your time planning your garden. Look at prices, and choose plants and materials that are within your budget. You can add to your garden over the years, so choose the quality that you can afford to get started.
What Elements Are Part of Garden Landscaping?
There are many different elements that you can consider when you are planning your garden. You are creating a gardening space, and it can be as simple or elaborate as your budget and your vision allow.
Consider any of the following features when you are designing your garden:
Hedges
Fences
Walls
Boundaries
Paths
Patios
Water features
Zones
Pots
Lighting
Lawn area
You may want to design a small, simple garden with plants and shrubs, or you might be planning an entire outdoor living area. The size of the area you plan to use will play a role, as well as the style of your home and the surrounding area. You should always try to achieve balance.
Garden Landscaping Ideas
One of the first things that you will do is design your garden, and you should look at magazines and get ideas for what you will incorporate. There are many different ways to plan your space. Take a look at a few ideas to enhance your garden space.
Add a Garden Path
Garden paths are trending in garden landscaping. You can use it on the border of a small garden, or you can use it to connect zones in a larger one. There are many different materials to choose from, and they will tie your garden together. Otherwise, you may have areas of the lawn that distract from your garden because they have suffered from the traffic. Consider a border or a pathway to and around your garden space.
Create a Private Space
Some people want to create a space with privacy where they can read a book, meditate, or relax. You can create a small terrace with hedging around the garden and choose hedges and shrubs that add privacy to the space. You can have some quality alone time while you work in the garden or while you enjoy it.
Create Levels
If you have a larger space, you can create levels to add interest to your garden. This works well in a sloped area, and you can divide the levels into different zones. You might create a vegetable garden on one level and a flower garden on another. Another level can be your patio or outdoor dining area with a few different shrubs.
Keep it Simple
When there are so many choices, it is easy to get carried away. However, it is always best to keep it simple. Simple is elegant, and you can still create an amazing space. Try to create themes for any zones and use plants that work well together. If you are using hard materials such as fences, boxes, or pavers, make sure that they are part of a simple theme. If you try to add too many different ideas, it will look busy and chaotic, so make sure that each zone is simple and tie them together.
Use Grass Steps on a Slope
If you have created your garden on a sloped hill, you can keep it natural by adding stone steps into the hill. The stones are basically small retaining walls, and you can add interest to a slope by building them. It is less expensive than adding stone steps, and it softly brings your garden space together. You can use it to connect a patio to the area below or to connect your garden to a pathway.
What Should I Do First in Garden Landscaping?
The first thing you need to do is plan your space. There are so many different kinds of homes and yards that you need to choose what works best for you. You might have a small yard on the side of the house, or you could have a large sprawling property. Either way, you need to choose the location for your garden before you can start designing it.
A small garden can be as lovely as a large one, but you need to plan so that it doesn't look crowded or busy. If you have a large garden, it is easy to have too much going on and make it feel disconnected. Once you know how much space you plan to use, you can start planning.
You might consider using a gardening app, where you can enter your space and then experiment with different looks. You can also sit in the space and start to visualize how you want it to turn out. Consider where you enjoy sitting, but try out different spots until you find the one that feels right.
You should start out small. Consider your overall plan, and then choose one feature, such as a small flower bed. When you landscape your garden, you don't have to do the entire project in one shot; you can split it into phases and really enjoy each phase as you add to the previous one.
Make sure that you find a focal point in the garden. This could be a tree or a sculpture, or it could be an area with a pond. By knowing your focal point, you can design around it. The focal point might be pre-existing, or you can add it.
Benefits of Garden Landscaping
You may not realize it, but there are many benefits to garden landscaping. Not only does it allow you to get going on your project, but there are other side benefits that make it worthwhile for anyone.
First of all, gardening is good for everyone. This is especially true if you are growing food. Eating local food that is healthy and of high quality is incredibly good for you. You can make sure that your food doesn't have any pesticides, hormones, or antibiotics when you grow it yourself.
While growing your own food is good for your body, it is also good for your mind. It gets you outside and moving around. It naturally reduces stress, and it makes you feel better.
Another benefit is that you are able to use your creativity. You can plan something and do it for yourself. In addition to being a great outlet for creativity, you are increasing the curb appeal and value of your home.
You will also learn by gardening. There are many different types of plants that you can grow, and you will learn how to grow them. You will learn how much water they need and how much care they need. You are essentially learning a new skill, which is good for your mind.
Final Words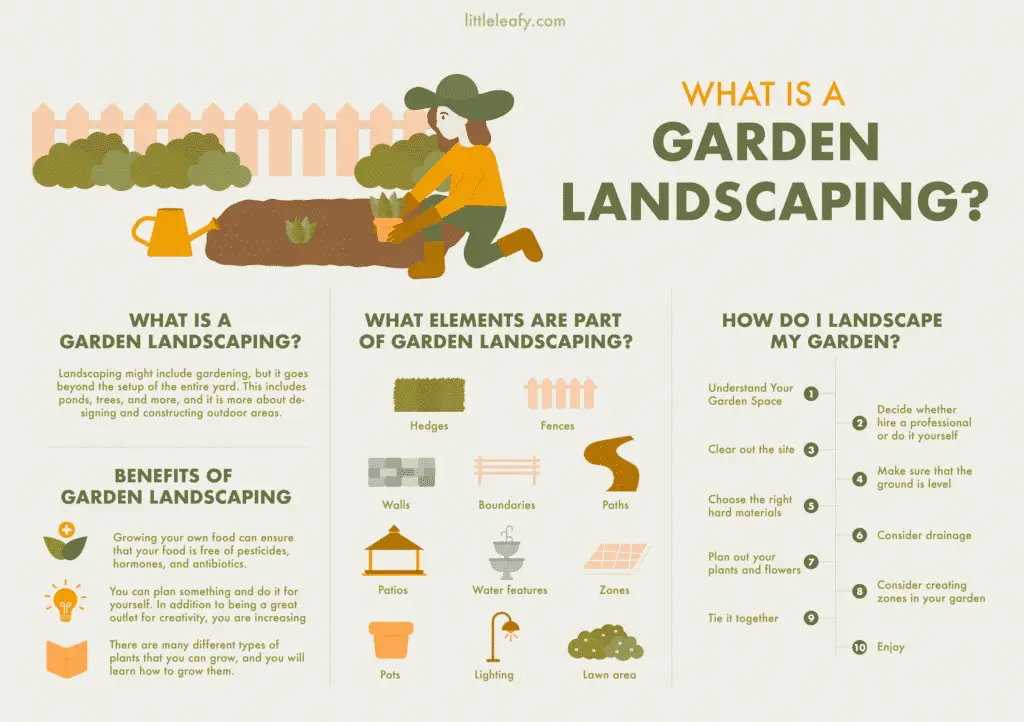 One of the trends in outdoor spaces is garden landscaping. Rather than planting a simple garden, people are planning the space around it and creating a small oasis in their yard. As long as you take the time to plan out your garden design, you can do it yourself.
For more elaborate plans, you can hire professionals for some or all of the work. Garden landscaping is a great way to improve your outdoor space.
Sources
Was this article helpful?