Reading Time: 8 minutes 🍃
People often want to bring color to their garden so that it always has personality, even when plants aren't growing. It is easy to add pops of color when your garden is in full bloom. You can choose plants to create the color scheme you want. 
In addition to the plants, there are more ways to add color to your garden. You may wonder, "Can you paint garden beds?"
Yes, you can. The important thing is to make sure that you use safe paints, particularly if you are planting edibles such as vegetables or herbs. 
Creating a Raised Garden Bed
You can create a raised garden bed for flowers or vegetables, and it will sit above the ground inside of a frame made of wood or another material. This allows you to control the soil and the environment, and it is especially useful if you aren't sure about the soil on the ground. It also lets you get around soil that isn't ideal for growing, such as hard-packed soil or soil that is too sandy or has too much clay. 
You will have fewer weeds, your soil will warm up faster and stay warm longer, and it can help you extend your growing season. It offers better conditions for new seeds and transplanting young plants, and the roots can grow deeper, which leads to healthier, stronger plants. It's no surprise that raised garden beds are very popular today. 
In addition, it is inexpensive and easy to build. You can make a four-foot by eight-foot bed in around an hour for less than $100. You just take two boards for the ends, two for the sides, and then support them with rebar. Nail the frame together, line the bottom with newspaper or cardboard, and fill the bed with soil. 
Can You Paint the Raised Garden Bed?
Once you have built your garden bed, you may wonder if you can paint it. Some people choose to leave the bed as natural wood because it can blend into the environment. If you leave the wood, it will age naturally. 
You can choose treated wood or natural wood for your planters, and untreated wood will decompose over time. However, it has a lower chance of having toxins leach into your garden from the wood. There is evidence that they have improved the process of treating wood so that toxins do not enter the soil, but if you are growing plants for food, you may want to stick with natural, untreated wood. 
Natural wood can last for more than a decade in your raised beds. However, you may wonder what happens if you paint it. 
If you want to paint your garden bed, you need to consider both the quality and type of paint you plan to use. This is especially the case if you are growing edible plants. You want to find a paint that has minimal chemical preservatives and is able to repel any moisture. 
Is Paint Toxic to Plants?
Paints that are water-based have a low negative impact on plants. However, if you choose synthetic paints, they may contain certain chemicals, such as mercury, benzene, or lead, which can be toxic to plants. Paints also contain VOCs, which are volatile organic compounds, and they are solvents that are released into the air as the paint dries. They can have an effect on plants. 
One of the concerns is that plants can be exposed to the paint. The paint could be spilled on the plant, which is more likely if you are painting a raised bed that is already planted. If you do spill paint on a plant, you need to remove it as quickly as possible. 
If the paint is water-based, you can use a clean cloth soaked in clean water to rub the paint off the surface of the plant gently. If it is oil-based, you will need to use organic solvents, such as rubbing alcohol. It will break up the paint bonds and release the paint from your plants. 
If you plan to paint your garden bed, you should use water-based paint and take precautions to minimize the risk to your plants. 
How to Protect Plants When You Paint a Raised Garden Bed
There are different precautions that you can take when you plan to paint a raised garden bed. Take a look at the following:
Use a Water-Based Paint That Is Nontoxic
If you want to paint your raised garden beds, make sure that you use paint that is labeled as non-toxic. This doesn't mean that it is 100% natural, but it is better than using any other kind of paint. You can find 100% natural plants that use mineral pigment, but they will be a lot more expensive. 
The paint should be water-based, as this is much safer for plants. In addition, it is easier to wash it off if you get any paint on the soil or the plants. 
Use a Liner in the Bed
You can reduce the chances of any chemicals leaching into the soil by using a bed liner. This allows you to paint the raised bed without worrying about any of the chemicals in the paint harming your plants. 
You will take a thick plastic liner and place it between the wood and your soil. In essence, it provides a barrier. Make sure that you never puncture the liner, and you will want to replace it if it is damaged or degrades over time. 
Wash the Wood Before You Paint it
If the garden bed you plan to paint is already built and in the garden, you need to rinse it off and get rid of any dirt. Make sure that the wood has time to dry after you finish cleaning it. You can also use a wire brush if there is any dirt that is stuck to the wood. You want to make sure that the wood is clean so that the paint can adhere to the surface. 
Benefits of Painting Your Raised Garden Bed
There are several benefits to deciding to paint your garden bed. First of all, the paint will protect the wood and help to preserve it. Paint offers a protective coating that prevents moisture from seeping into the wood. How much protection it adds depends on how much of the wood surface you cover, what type of paint you use, and how many coats you use. 
In addition, when you paint the raised garden beds, you can add any color you like to your garden. You can have them match the house or other buildings on the property, or you can add color so that they don't look drab in the winter. You can choose to paint solid colors or designs, and it can add interest to the wood. 
Are There Any Drawbacks to Painting Raised Garden Beds?
One of the biggest concerns, when you are painting your raised garden bed, is the possibility that chemicals from the paint will leach into the soil where your plants are growing. This is less of an issue if you are growing flowers, but when you are growing edibles, you won't want chemicals getting into the plant. 
You can reduce the risks by painting just the outside of the garden bed. In this case, the paint would have to leach from the outside of the wood to the inside of the bed. Then, it would have to get into and through the soil to the growing plant. 
What Type of Paint Should You Use to Paint Your Raised Garden Bed?
When you are choosing paint for your raised garden beds, you want to start with water-based paint. It should be made for exterior use and labeled nontoxic. This type of paint will be safe for your plants and it will protect the wood in your raised garden bed. 
Water-based paint is latex paint, and it will not expose your plants to toxic chemicals. Be sure to limit your painting to the exterior of the garden bed, and if you paint the interior, you should line the bed to protect the soil. 
The issue with latex paint is the VOCs or volatile organic compounds. However, you can find brands that are free of VOCs and eco-friendly. This type of paint doesn't contain any harmful chemicals that can compromise the quality of your soil, and you can paint the interior and exterior of the garden beds with it. 
Besides latex- or water-based paint, you can use milk paint or mineral oil. Milk paint has become very popular as a non-toxic alternative to latex paint. It is being used more and more for raised garden beds. It is made with natural ingredients, including milk protein, organic pigment, and lime. You can use it when you are growing edibles, and it is perfectly safe. 
Milk paint leaves a matte finish, so your raised garden beds will have a rustic look. You will see watermarks on the wood when you use milk paint, but you get the advantage that it won't peel, fade, or chip. You can get extra protection by finishing it with a layer of hemp oil or linseed oil. 
You can also try mineral oil, which is a non-toxic substance that you can use to paint raised garden beds. Mineral oil is petroleum-based, and it is often used in wooden kitchen surfaces and utensils. You can use it to seal the wood in your raised garden bed. It will fill in dents and pores, and it is often used on the boundaries. It can extend the life of your wood by protecting it from water. However, it won't add color to your garden bed. 
Does Milk Paint Have a Lot of Color Choices?
When you're looking at milk paint as a safe alternative for painting your garden beds, you may wonder what colors they offer. You can choose from at least 56 different colors that range from classics to bright shades. It is 100% natural, and it is non-toxic and food safe. It is free of VOCs, and it is considered biodegradable and compostable. It is powdered paint that is mixed with water before you use it, and it will last up to two weeks in a liquid form. 
It works well for this kind of project because it leaves you with a matte finish that is rustic. It is also often made with 10% organic ingredients, and it is safe for food and non-toxic. It doesn't contain VOCs, and it is biodegradable and compostable. In addition, it is kid- and pet-friendly, and it doesn't have chemical fumes. You can mix any of the colors it comes in to create your ideal color. 
Should You Remove Your Plants to Paint the Garden Bed?
If you are able to remove your plants, it is always going to be safer. You should also cover the soil in the bed to protect it because any paint that spills can add toxins to the soil. If you know that you are going to paint your garden bed before you install it, you can start out by painting the wood before you put it together. If it is already built, just take care and cover the soil while you are painting. Once you finish painting the wood, wait until the paint is thoroughly dry before you put the plants back in it. 
Final Words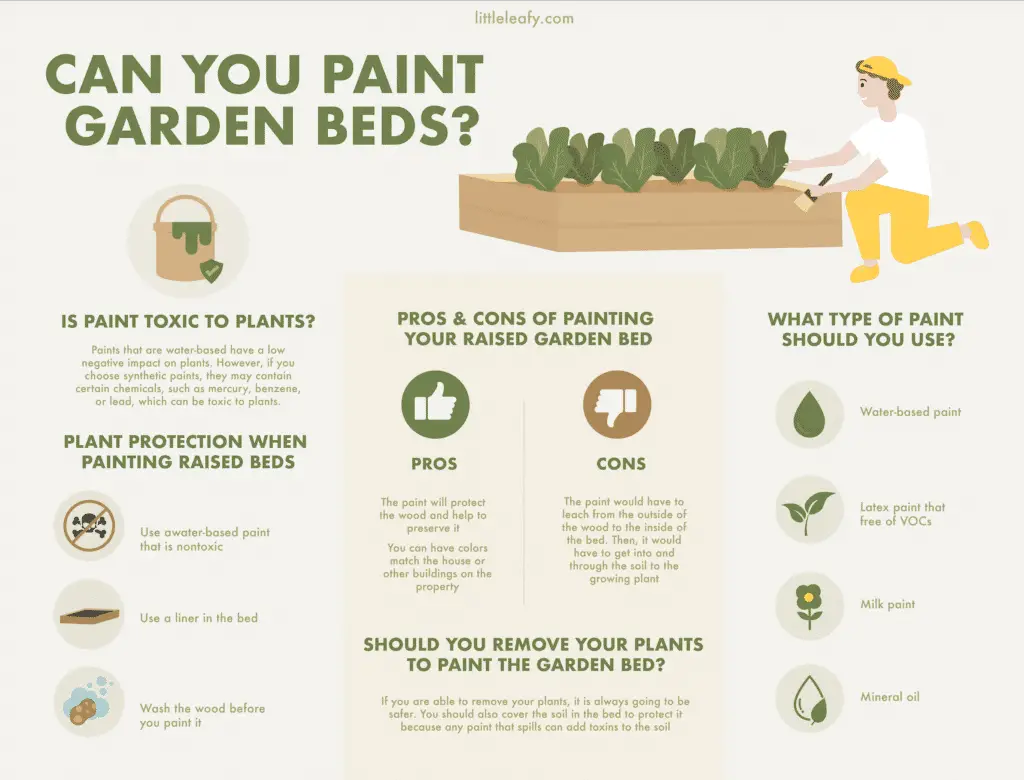 Some people like to keep the wood in their raised garden beds natural, but others want to paint them. There are several reasons to paint them, including protecting the wood and adding a pop of color to your garden. This can bring life to your garden during the months when the plants aren't growing. You can match other buildings nearby. The important thing is to choose a nontoxic type of paint that won't be harmful to your plants. You have a lot of choices, so be careful not to get paint on the soil or your plants, and choose the color you want. 
Sources
Was this article helpful?